STEPHANIE SHERWOOD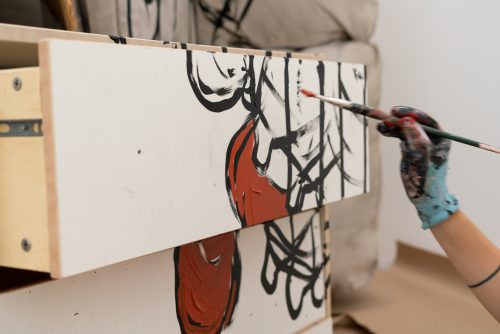 Photo by Jesus Martinez-Rizo
ill-contained
SITE-SPECIFIC INSTALLATION
NOV 1 – DEC 12, 2022
ARTIST'S TALK in the Gallery NOV 7, 12PM
RECEPTION FOLLOWING TALK
A long-time resident of Los Angeles with a multi-cultural background, Sherwood graduated from California State University, Long Beach, and studied at Guangzhou Academy of Fine Arts in China in 2010-11. She has shown at Los Angeles Municipal Art Gallery, LAArtcore, The Brand Library, DAC Gallery and Highways Performance Space as well as nationally and internationally.
At the core of Sherwood's artistic foundation is drawing from life, typical still-life arrangements of not so typical raw meat and body parts. Eventually, she became fascinated with the way soft, fleshy forms press against rigid structures, exuding tension and in the artist's mind, an awkward beauty. Associations for the visual dichotomy are in the forefront of her expressive content: the human experience of encountering restrictions at every turn; feelings of entrapment; failure to fit within prescribed spaces and expectations; squashed emotions spilling out and making a mess.This exploration became her signature "Confine Series."
In 2019, Sherwood expanded her primarily 2D practice with "In Situ," a body of work incorporating derelict furniture items commonly dumped on L.A. streets and alleyways.
Surreptitiously painting her familiar imagery on these cast-off objects early in the morning. Typically, in a matter of days, the artwork is carted off to its intended destination, the landfill.
"The physical aspect of the artwork has become even more important to me. Once I became invested in sculptural objects, I was investigating how to combine materials with the painted elements that signaled the body. I knew that painting in the streets at the pace I was wouldn't be sustainable, but the concepts were so arresting that I needed to bridge the gap. It couldn't just be about making a finished painting anymore."
– Stephanie Sherwood
In this site-specific project, Sherwood brings her nomadic impulses to the white box: lush and suggestive forms, simultaneously deliberate and random, a marriage of urban detritus and performative spontaneity.
To engage our students, the artist invited them to contribute their own found objects to her compilation. The students also did a group spin-off version inspired by the artist, viewable in the display case in the art courtyard.
Student Installation